For your wedding reception, we believe our job is to make delightful, beautiful and stunning food that makes your guests happy, fulfills your expectations and respects your individuality and your budget.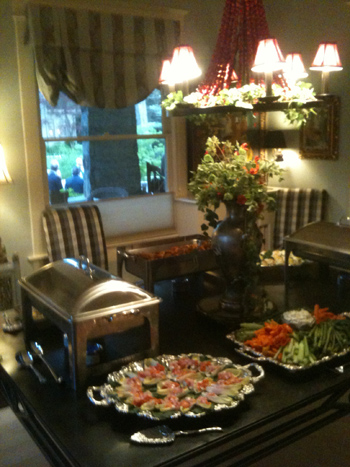 Our food can help make your wedding a real celebration, and we would be honored to be a part of one of the most important events in your life.
Whether your reception is small and intimate, a huge party for all your friends and family, or a formal, seated dinner for your honored guests, What's for Supper Catering can make sure your event is unique, reflective of your personality and memorable.
We work in multiple venues – homes, churches, under tents, clubs and other locations and can provide the food, professional service and organization for your reception, rehearsal dinner, and other parties and showers.
Plus, to help you decide on the food for your event, we'll be happy to arrange a selection of our most popular menu items for you to taste and enjoy as we plan your event.
We will enjoy helping you make your wedding special.
To give you some ideas for food, take a look at a sample of our wedding menus.