What's for Supper Catering can create dinner parties, backyard cookouts, receptions that cater to your tastes, your guests, and the desire you have for a memorable occasion.
The following suggestions are illustrative, not comprehensive. We're happy to prepare these for a small or large group, and will gladly work with you to custom-design a menu you and your friends will love. Let us provide the food for your next party!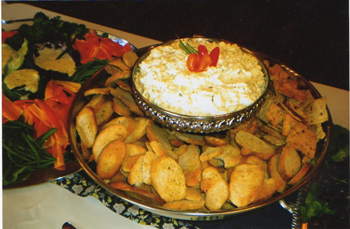 Shrimp, Chicken & Mussels in Rice
Fresh tomatoes and avocado in garlic aioli
Brined chicken, shrimp and mussels in rice cooked in stock
Julienned onions, red peppers, zuchini, garlic with fresh basil
Fresh bread with seasoned butter
Blueberries and granola with chocolate chips in fresh whipped cream
Shrimp & Scallops Dinner
Chopped salad with avocado & artichoke in a mustard vinaigrette
Shrimp & scallops sauteed and served with anise carrot reduction and curry oil
Roasted, pureed eggplant with green onions & cilantro
Crispy mix of sweet and russet potatoes, roasted in olive oil with rub
Fresh bread with seasoned butter Chocolate strawberry mousse
Shrimp & Grits
Mixed endive, butter & oak leaf
Cold gazpacho soup
Shrimp & scallops with chorizo and country ham in tomato-vegetable saute
Goat cheese grits
Sliced baguettes toasted with thyme
Lemon ice box pie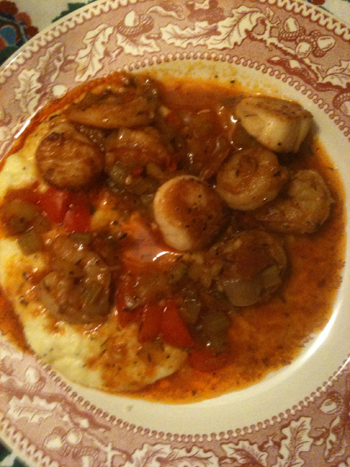 Grilled Pork Tenderloin Dinner
Mixed endive, butter & oak leaf lettuce with garlic & bacon croutons in a red wine vinaigrette
Grilled pork tenderloin in rub, sliced and served with roasted pepper/chipotle sauce
Cajun sushi dirty rice
Zucchini/tomato gratin with Parmesan
Sourdough bread with olive oil/sherry vinegar dip
Chocolate pecan pie
Beef Tenderloin Dinner
Escarole, ham, cheese and walnut salad
Marinated beef tenderloin, grilled and thickly sliced with maitre d' hotel butter (herbed butter with parsley)
Roast mixed vegetables in lemon vinaigrette, sweet and slightly charred
Gratin forestierre – potatoes in a cream gratin with mushrooms
Sliced baguettes with olive oil dip
Lemon tart in fresh pastry shell
Daube of Beef
Endive salad with walnuts and Roquefort cheese
Daube de Boeuf – roast chuck & sirloin marinated overnight in red wine, cooked slowly with vegetable and mushrooms
Gratin dauphinois – thin-sliced russet potatoes in a gratin with Gruyere, creme fraiche and garlic
Fresh baguettes with herb seasoned butter
Mixed seasonal fruit with slivered almonds
Basque Chicken Dinner
Shrimp bisque with seasoned toast
Basque chicken – fresh, local chicken seared and braised with peppers, country ham, garlic & shallots served over tomato/onion soffrito
Southern spoon bread
Thin-sliced cucumbers in champagne vinaigrette
Raspberries & raspberry sorbet
Braised Lamb Shank Dinner
Layered tomato/basil/mozzarella salad with garlic infused olive oil (in season
Lamb shanks marinated in herbs and wine and braised with vegetables
Giant couscous with chopped green onions
Sourdough bread with herbed olive oil
Bananas flambe in bourbon chocolate sauce over ice cream


Pork Chops with Baked Beans, Rice & Gravy
Southern cole slaw with local cabbage, carrots and spices
Seasoned fried pork chop
Cajun dirty rice with fresh cream pork chop gravy
Baked beans
Homemade buttermilk biscuits
Bread pudding with bourbon & whipped cream
Fried Chicken, Fried Corn, Squash Casserole
Brined, buttermilk coated chicken, fried
Cajun dirty rice with fresh chicken gravy
Zucchini & summer squash casserole with cheddar
Fresh white corn (in season) fried with butter and cream
Cornbread or buttermilk bisquits
Chocolate pie
Gumbo Dinner
Fresh cold boiled shrimp with homemade remoulade
Seafood, chicken and andouille sausage gumbo
Goat cheese grits
Baby lettuce with simple vinaigrette and fresh blue cheese
Toasted baguette slices with olive oil & herbs
Peach cobbler with whipped cream (in season)
Booking an event
Call us at 256-682-7899 or click here for email. When emailing an inquiry, please give us your name, address, contact information, the date and time of your event, and the number of people you expect to attend. We'll set up a time to talk and plan out a menu you'll be proud to serve.