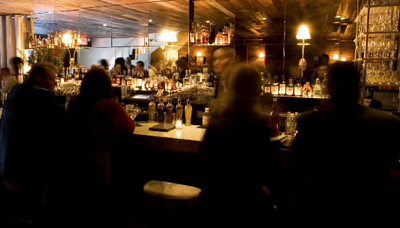 If you're by yourself in a city where you've never been, where no one knows you, and you're tired, hungry, and in need of a glass of wine, where do you go? Do you get in your car and drive to the nearest chain? Do you wander downstairs to your hotel's restaurant – often convenient to its karaoke bar? Do you, heaven forbid, eat fast food? By no means.
Here's what you do: you find out the name of the finest restaurant in town, and you go in. Unannounced. No reservation. You don't need no reservation! You're sitting at the bar.
The experience is more often than not delightful. You get served a drink immediately – no trivial matter if you are in need. There is a good chance that you'll be seated next to interesting and garrulous people, and you can dine.
Think about it. You can't be a bartender in one of these places without being one of those wonderful people who have a highly refined sense of the needs of others – in this case you. They are fast, attentive, careful to keep your glass full and right there when you need them to be.
When I was traveling often, I had wonderful bar meals at wonderful restaurants like Spiaggia in Chicago, Gary Danko in San Francisco and Spago in Los Angeles. Two weeks ago in Atlanta, I did it again. This time at the Woodfire Grill. This restaurant gets local food in season and prepares it like southerners. Southerners who happen to be incredible cooks. They have an outrageously good wine list, weighted towards French and other old world wines, and they know what goes well with what. I tried their tasting menu with wines paired for each dish and found the interesting and garrulous people I had hoped to meet. In this case, we became friendly enough to share a taste of each of our separate dishes.
So the next time, you see a solitary soul staring at his drink at the bar. Don't feel sorry for him. He's having the time of his life!